10% OFF FIRST BOX WITH CODE SOULIFY10
Past Boxes are shipped within 5 business days.
The Soulify Fall Box was packed with products, rituals and tools to help tap into intuition by working on the "clairs". Contains products worth $165⠀
FEATURING 
Messages from the Divine by Sara Wiseman,  
Intuition Development Master Class by Krista Nestoruk 
Lucid Dreams Isochronic Binaural Audio 
Smudged & Reiki Charged Labradorite 
Wild Unknown Tarot Mini Deck  
Chakraboosters 3rd Eye Chakra Tattoo for Intuition, Insight and ESP  
Dream Catcher Crystal Mist  
Smudged and Reiki Charged Orange Calcite
Summer 'Journey Up The Chakras'
The Summer 'A Journey Up the Chakras - Mindfulness' Box contains products worth $207. 
We will be focusing on the lower chakra and heart chakra for this box for grounding and calling in love, joy, and gratitude. 
FEATURING 
Judgement Detox by Gabrielle Bernstein 
The Art of Stopping Time by Pedram Shojai 
Mind Break program by Zayra Mo  
Feathers Gilded Journal 
May Your Know Joy Seeds of Intention Cards 
Reiki Charged & Smudged Frosted Amazonite Bead Mala with Tassel 
Yippee & Co. Sparkling Pomegranate Bath Salt. 
Sixth Scents Bergamot Essential Oil 
Rosemary Smudge Stick 
Reiki Charged & Smudged Bloodstone Jasper
March 'Money Mindset' Box
March 'Money Mindset' Box contains products worth $358. We will focus on Money Mindset & Energy. 
We will work on aligning the root chakra, also known as the money chakra. For balance, we will give some love to sacral chakra to balance earth and water elements and keep things in flow.
FEATURING  
Abundance Now by Lisa Nichols 
Energetics of Profits by Kristen Jett, Profit Priestess 
Be a Money Magnet Hypnosis by Lynnsey Robinson 
Calm Essential Oil Roll by Soothing Terra 
Prosperity Soap by Sacred WE 
Sacred Arrow Hematite Stone Diffuser Bracelet 
Palo Santo with Tourmaline 
Metallic Feather Bookmark
February 'Goal Setting' Box
Goal Setting with strategy, manifestation and balance.  Energetically, we will focus on Solar Plexus Chakra for willpower along with Heart Chakra to create balance. 
FEATURING  
Maximum Achievement by Brian Tracy 
 Goal smashing Masterclass by Manifestation Babe, Kathrin Zenkina
The Wishing Well Binaural Mediation for Ambitions & Desires
Smudged & Reiki Charged Pyrite
Heart Chakra Oil
Sandalwood & Patchouli Soap Infused with Tiger's Eye
Do a little something for yourself
Soulify Biz Box includes the power of motivational books, productivity tools, and vibrational tools to take your energy and motivation to the next level. 
 
To feel like you are just an observer in the midst of chaos and the ability to enter flow on demand, is the gift I want to offer you. 

So do this for yourself.  

Become a part of the Soulify Community.  

Get the tools and the guidance that will bring out the positivity, the calmness, and the personal power within you. 

As a bonus, you get the tools to stay on track and  connect with like-minded women like you who desire the same things as you and are on a spiritual path just like you. 

I welcome you to become a part of my tribe. 

Love, 

Poonam 

Founder of Soulify Biz box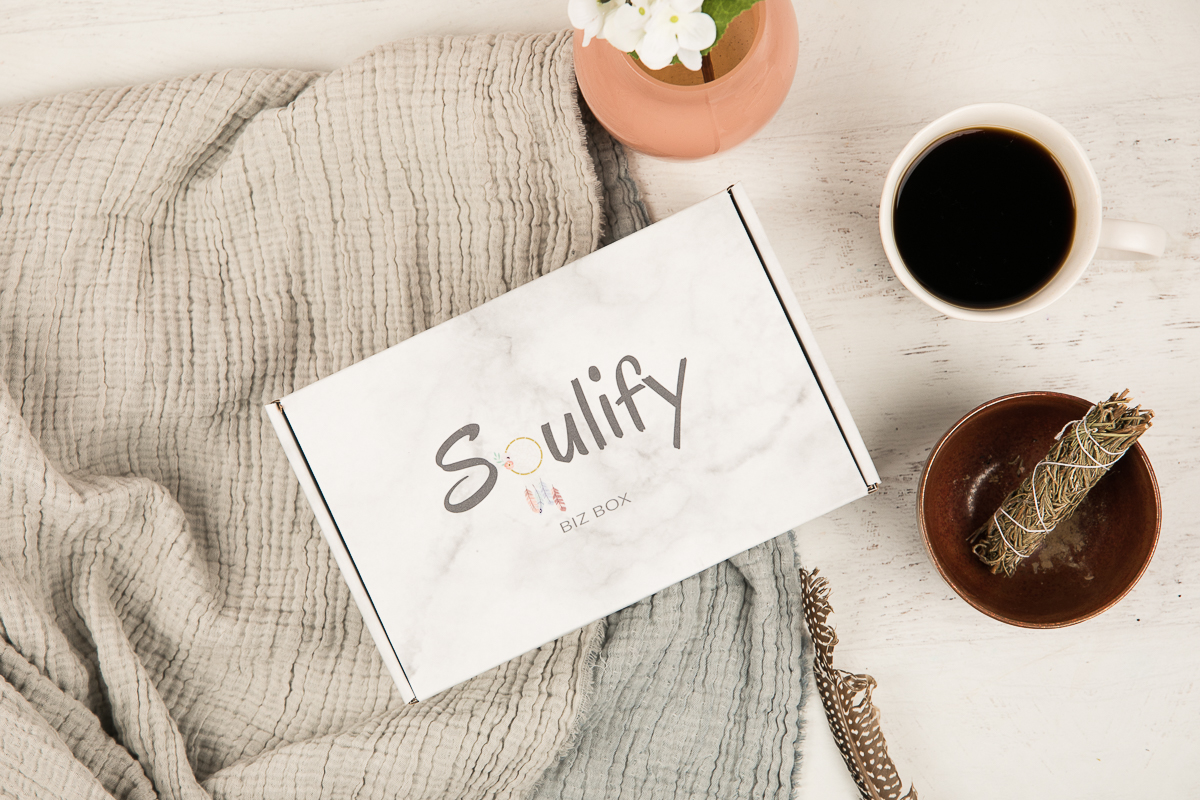 The Perfect Box for the Spiritual Go-Getter
Motivation + Action + Woo